AVAILABLE IN 2, 4, 6, & 8 HEAD VERSIONS
The Tajima TFMX-IIC Type 2 series is Tajima's most popular compact multi-head embroidery machine, which has been developed for over 20 years. The latest version (Type 2) incorporates all the features that Tajima Embroidery Machines have become famous for, such as an easy-to-use control panel, world-renowned sewing precision, high productivity and ultimate reliability. With a super slim cylinder arm, you can now embroider with ease on more products and into a tighter area than ever before.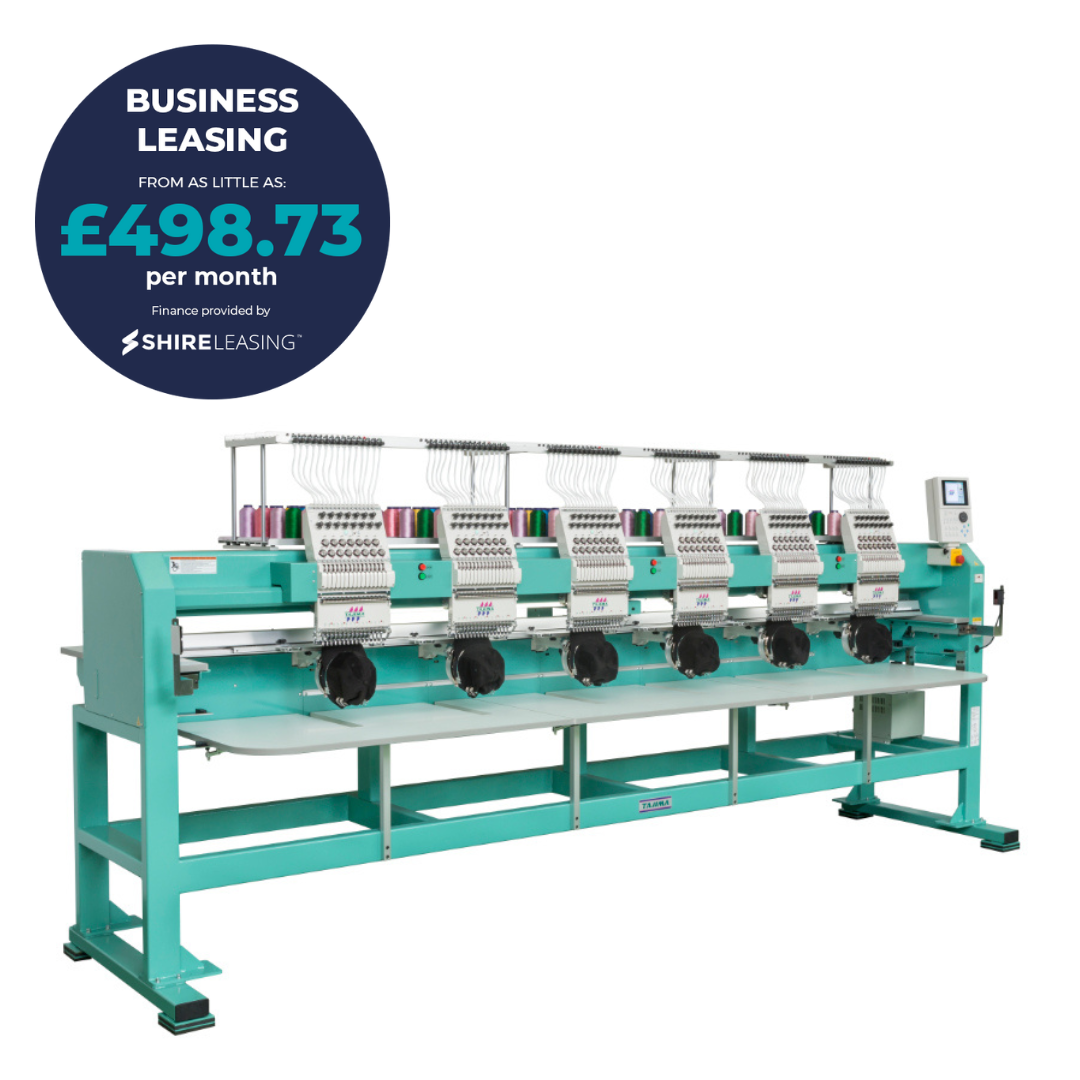 Lease price shown is for a 4 head machine.
STANDARD FEATURES OF TFMX-IISC MULTIHEAD MACHINES
2,000,000 Stitch Memory
Auto Colour Change
Auto Thread Break Sensor
Auto Thread Trim
Barcode Ready
Colour LCD Panel
High Speed Rotary
LAN Enabled
Quick Changeover
Spiral Tubes
USB Enabled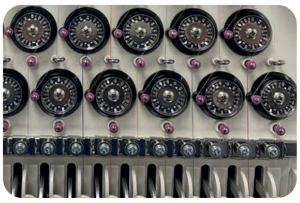 THREAD BREAK DETECTION
A sensor constantly monitors the thread movement. If the upper or lower thread is broken, the system instantly stops stitching, allowing correction and back up if needed to preserve stitch quality. The sensitivity is adjustable on the operation panel.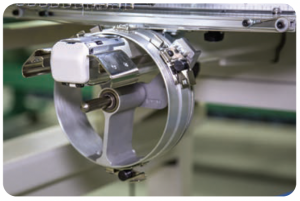 VERSATILE CAP DRIVER
The cap driver incorporates a lower shaft and a third locking pin to stabilize the cap during embroidery to enhance quality and allows cap production at high speeds.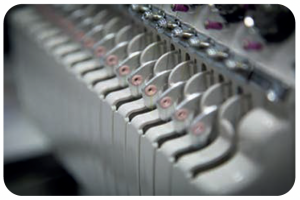 TAKE-UP LEVER GUARD
Covers mounted over the take-up levers prevent thread from cross tangling during high speed production and improve safety in the work-place.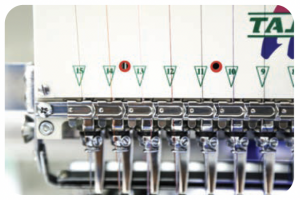 THREAD LOCKING SYSTEM
The Thread Locking System secures the thread after a trim to help prevent the thread pulling out during needle startup.
KEY FEATURES OF  TFMX-IISC MULTIHEAD MACHINES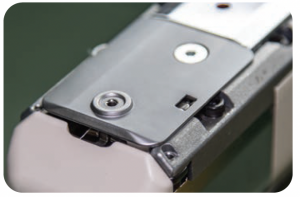 TRIMMED NEEDLE PLATE
A shorter distance between the needle hole and the edge of the trimmed needle plate offers an increased embroidery area on many items.
LED NEEDLE BASE LIGHT
The LED Needle Base Light illuminates the needle area and enables the operator a better view of the item being embroidered.
STEEPER TILT HEAD
The Steeper Tilt Head angles the bill of a cap and allows stitching closer to the edge of the bill, increasing the embroidery area.
SLIM CYLINDER BED
The Slim Cylinder makes it possible to embroider on smaller objects such as socks, gloves, and pockets.The Slim Cylinder is 12mm narrower than the original Tajima cylinder.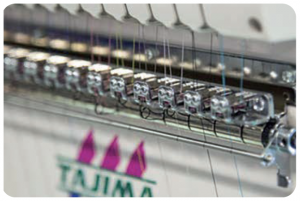 THREAD TAKE-UP SPRING
The take-up spring picks up excess thread and stabilises the balance of upper and lower threads at high speed while improving thread tension
SPECIFICATIONS FOR  TFMX-IISC MULTIHEAD MACHINES
TFMX 2 HEAD STANDARD
NEEDLES 15
MAX SPEED 1000 SPM
HEAD INTERVAL 360mm
TUBULAR EMB. FIELD 439mm x 279mm/ 17.3" x 10.9"
CAP EMBROIDERY FIELD 75mm x 360mm / 3" x 14.2"
MACHINE DIMENSIONS 56" W x 50" D x 65" H
MACHINE WEIGHT 299 kgs
MIN. DOOR CLEARANCE 32" W
TFMX 4 HEAD STANDARD
NEEDLES 15
MAX SPEED 1000 SPM
HEAD INTERVAL 360mm
TUBULAR EMB. FIELD 439mm x 279mm/ 17.3" x 10.9"
CAP EMBROIDERY FIELD 75mm x 360mm / 3" x 14.2"
MACHINE DIMENSIONS 84.6" W x 50" D x 65" H
MACHINE WEIGHT 393 kgs
MIN. DOOR CLEARANCE 32" W
TFMX 6 HEAD STANDARD
NEEDLES 15
MAX SPEED 1000 SPM
HEAD INTERVAL 360mm
TUBULAR EMB. FIELD 439mm x 279mm/ 17.3" x 10.9"
CAP EMBROIDERY FIELD 75mm x 360mm / 3" x 14.2"
MACHINE DIMENSIONS 112.9" W x 50" D x 65" H
MACHINE WEIGHT 568 kgs
MIN. DOOR CLEARANCE 32" W
TFMX 8 HEAD STANDARD
NEEDLES 15
MAX SPEED 1000 SPM
HEAD INTERVAL 360mm
TUBULAR EMB. FIELD 439mm x 279mm/ 17.3" x 10.9"
CAP EMBROIDERY FIELD 75mm x 360mm / 3" x 14.2"
MACHINE DIMENSIONS 143.3" W x 50" D x 65" H
MACHINE WEIGHT 686 kgs
MIN. DOOR CLEARANCE 32" W
TFMX 2 HEAD STRETCH
NEEDLES 15
MAX SPEED 1000 SPM
HEAD INTERVAL 500mm
TUBULAR EMB. FIELD 439mm X 419mm / 17.3" x 16.5"
CAP EMBROIDERY FIELD 75mm x 360mm / 3" x 14.2"
MACHINE DIMENSIONS 72.6" W x 50" D x 65" H
MACHINE WEIGHT 360 kgs
MIN. DOOR CLEARANCE 32" W
TFMX 4 HEAD STRETCH
NEEDLES 15
MAX SPEED 1000 SPM
HEAD INTERVAL 500mm
TUBULAR EMB. FIELD 439mm x 419mm/ 17.3" x 16.5"
CAP EMBROIDERY FIELD 75mm x 360mm / 3" x 14.2"
MACHINE DIMENSIONS 112" W x 50" D x 65" H
MACHINE WEIGHT 393 kgs
MIN. DOOR CLEARANCE 32" W
TFMX 6 HEAD STRETCH
NEEDLES 15
MAX SPEED 1000 SPM
HEAD INTERVAL 500mm
TUBULAR EMB. FIELD 439mm x 419mm/ 17.3" x 16.5"
CAP EMBROIDERY FIELD 75mm x 360mm / 3" x 14.2"
MACHINE DIMENSIONS 153" W x 50" D x 65" H
MACHINE WEIGHT 672 kgs
MIN. DOOR CLEARANCE 32" W
TFMX 8 HEAD STRETCH
NEEDLES 15
MAX SPEED 1000 SPM
HEAD INTERVAL 500mm
TUBULAR EMB. FIELD 439mm x 419mm/ 17.3" x 16.5"
CAP EMBROIDERY FIELD 75mm x 360mm / 3" x 14.2"
MACHINE DIMENSIONS 192.7" W x 50" D x 65" H
MACHINE WEIGHT 1037 kgs
MIN. DOOR CLEARANCE 32" W