AVAILABLE IN 2, 4, 6, & 8 HEAD VERSIONS
The Tajima TMAR-KC Type 2 series is the world's first machine to incorporate DCP (Digitally Controlled Presser foot. DCP takes controlling your embroidery parameters to a new level and controls the stitching like never before when using thick or thin Fabric or Thread combinations in your designs. 3D Embroidery is much simpler with DCP. Other features are a full touch screen, Head control Buttons and pickerless trimmers.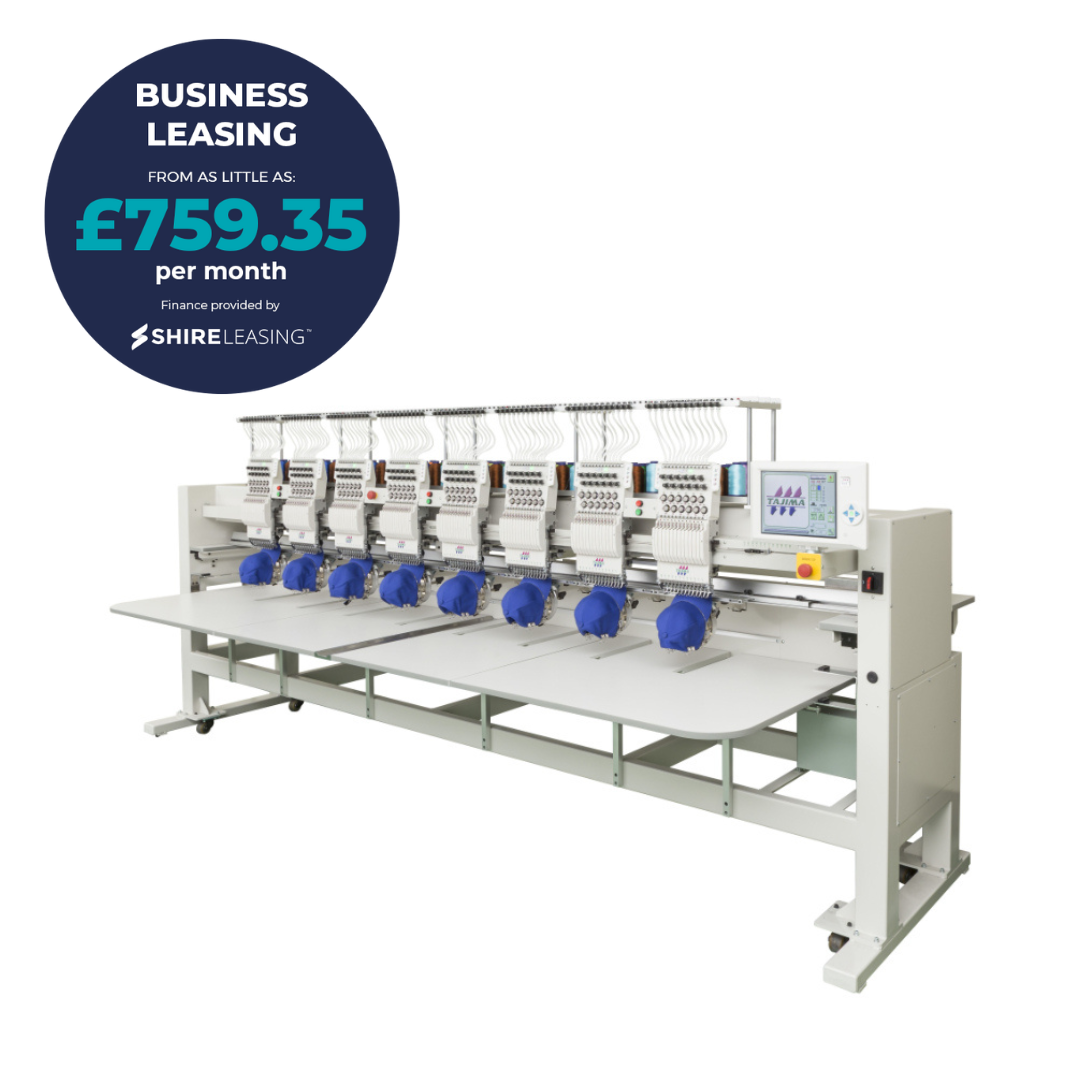 Lease price shown is for a 4 head machine.
STANDARD FEATURES OF TMAR-KC TYPE 2 MULTIHEAD MACHINES
40,000,000 Stitch Memory
Auto Colour Change
Auto Thread Break Sensor
Auto Thread Trim
Barcode Ready
Touchscreen Panel
High Speed Rotary Hook
LAN Enabled
Quick Changeover
Pickerless Trimmer
Spiral Tubes
USB Enabled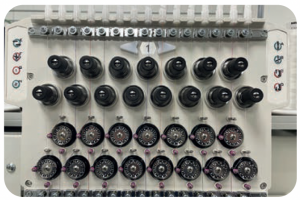 DIRECT COMMAND SWITCHES
Common functions of the operation panel can be manipulated from each head, thus improving operator working efficiency.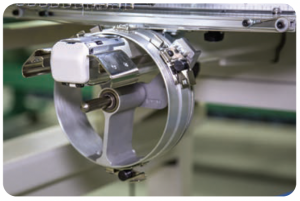 VERSATILE CAP DRIVER
The cap driver incorporates a lower shaft and a third locking pin to stabilize the cap during embroidery to enhance quality and allows cap production at high speeds.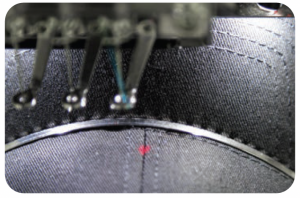 LASER POSITION MARKER
A red dot projected above the needle hole helps identify the actual embroidery area when tracing the design before stitching.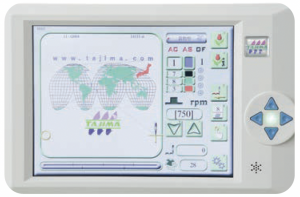 TOUCH SCREEN PANEL
The easy to use, touch screen operation panel has picture icons to guide you and has high-capacity memory that can store up to 40,000,000 stitches or 650 designs.
KEY FEATURES OF  TFMX-IISC MULTIHEAD MACHINES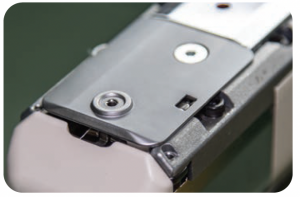 TRIMMED NEEDLE PLATE
A shorter distance between the needle hole and the edge of the trimmed needle plate offers an increased embroidery area on many items.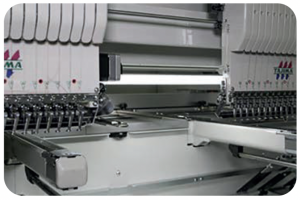 LED NEEDLE BASE LIGHT
The LED Needle Base Light illuminates the needle area and enables the operator a better view of the item being embroidered.
STEEPER TILT HEAD
The Steeper Tilt Head angles the bill of a cap and allows stitching closer to the edge of the bill, increasing the embroidery area.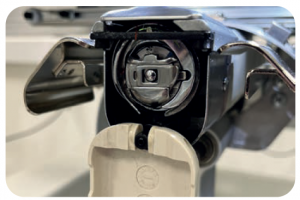 PICKERLESS TRIMMER
Tajima has recently developed the new style 'pickerless' trimming system which along with the Slim cylinder arm, allows you to embroider smaller objects. Caps, socks, gloves and pockets are no longer a struggle.
With the development of the Tajima Slim Cylinder arm, the needle plate has also been redesigned to allow for an increased embroidery area on many items. Easy removal makes maintenance a simple task.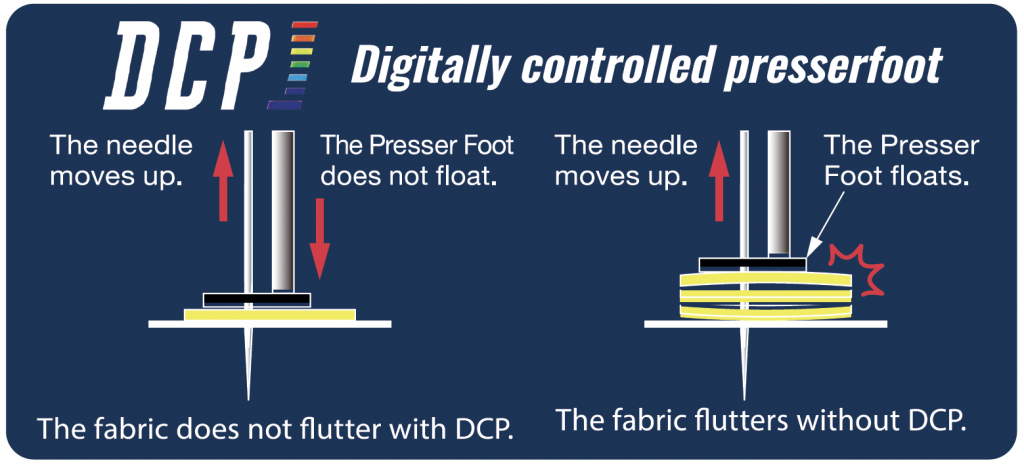 SPECIFICATIONS FOR  TMAR-KC MULTIHEAD MACHINES
TMAR-KC 4 HEAD STANDARD
NEEDLES 15
MAX SPEED 1100 SPM
HEAD INTERVAL 360mm
TUBULAR EMB. FIELD 439mm x 279mm/ 17.3" x 10.9"
CAP EMBROIDERY FIELD 75mm x 360mm / 3" x 14.2"
MACHINE DIMENSIONS 108.2" W x 53" D x 65" H
MACHINE WEIGHT 486 kgs
MIN. DOOR CLEARANCE 34" W
TMAR-KC 6 HEAD STANDARD
NEEDLES 15
MAX SPEED 1100 SPM
HEAD INTERVAL 360mm
TUBULAR EMB. FIELD 439mm x 279mm/ 17.3" x 10.9"
CAP EMBROIDERY FIELD 75mm x 360mm / 3" x 14.2"
MACHINE DIMENSIONS 129.1" W x 53" D x 65" H
MACHINE WEIGHT 656 kgs
MIN. DOOR CLEARANCE 34" W
TMAR-KC 8 HEAD STANDARD
NEEDLES 15
MAX SPEED 1100 SPM
HEAD INTERVAL 360mm
TUBULAR EMB. FIELD 439mm x 279mm/ 17.3" x 10.9"
CAP EMBROIDERY FIELD 75mm x 360mm / 3" x 14.2"
MACHINE DIMENSIONS 157.4" W x 53" D x 65" H
MACHINE WEIGHT 834 kgs
MIN. DOOR CLEARANCE 34" W
TMAR-KC 2 HEAD STRETCH
NEEDLES 15
MAX SPEED 1100 SPM
HEAD INTERVAL 500mm
TUBULAR EMB. FIELD 439mm X 419mm / 17.3" x 16.5"
CAP EMBROIDERY FIELD 75mm x 360mm / 3" x 14.2"
MACHINE DIMENSIONS 88.9" W x 53" D x 65" H
MACHINE WEIGHT 448 kgs
MIN. DOOR CLEARANCE 34" W
TMAR-KC 4 HEAD STRETCH
NEEDLES 15
MAX SPEED 1100 SPM
HEAD INTERVAL 500mm
TUBULAR EMB. FIELD 439mm x 419mm/ 17.3" x 16.5"
CAP EMBROIDERY FIELD 75mm x 360mm / 3" x 14.2"
MACHINE DIMENSIONS 128.3" W x 53" D x 65" H
MACHINE WEIGHT 642 kgs
MIN. DOOR CLEARANCE 34" W
TMAR-KC 6 HEAD STRETCH
NEEDLES 15
MAX SPEED 1100 SPM
HEAD INTERVAL 500mm
TUBULAR EMB. FIELD 439mm x 419mm/ 17.3" x 16.5"
CAP EMBROIDERY FIELD 75mm x 360mm / 3" x 14.2"
MACHINE DIMENSIONS 167.7" W x 53" D x 65" H
MACHINE WEIGHT 813 kgs
MIN. DOOR CLEARANCE 34" W
TMAR-KC 8 HEAD STRETCH
NEEDLES 15
MAX SPEED 1100 SPM
HEAD INTERVAL 500mm
TUBULAR EMB. FIELD 439mm x 419mm/ 17.3" x 16.5"
CAP EMBROIDERY FIELD 75mm x 360mm / 3" x 14.2"
MACHINE DIMENSIONS 207" W x 53" D x 65" H
MACHINE WEIGHT 1126 kgs
MIN. DOOR CLEARANCE 34" W