The Tajima TMBP-SC1501 has a streamlined cubical frame design which has no sidewalls allowing embroidery on over-sized jackets, blankets, large duffel bags, and more, while still performing outstanding embroidery on smaller items such as polos and caps.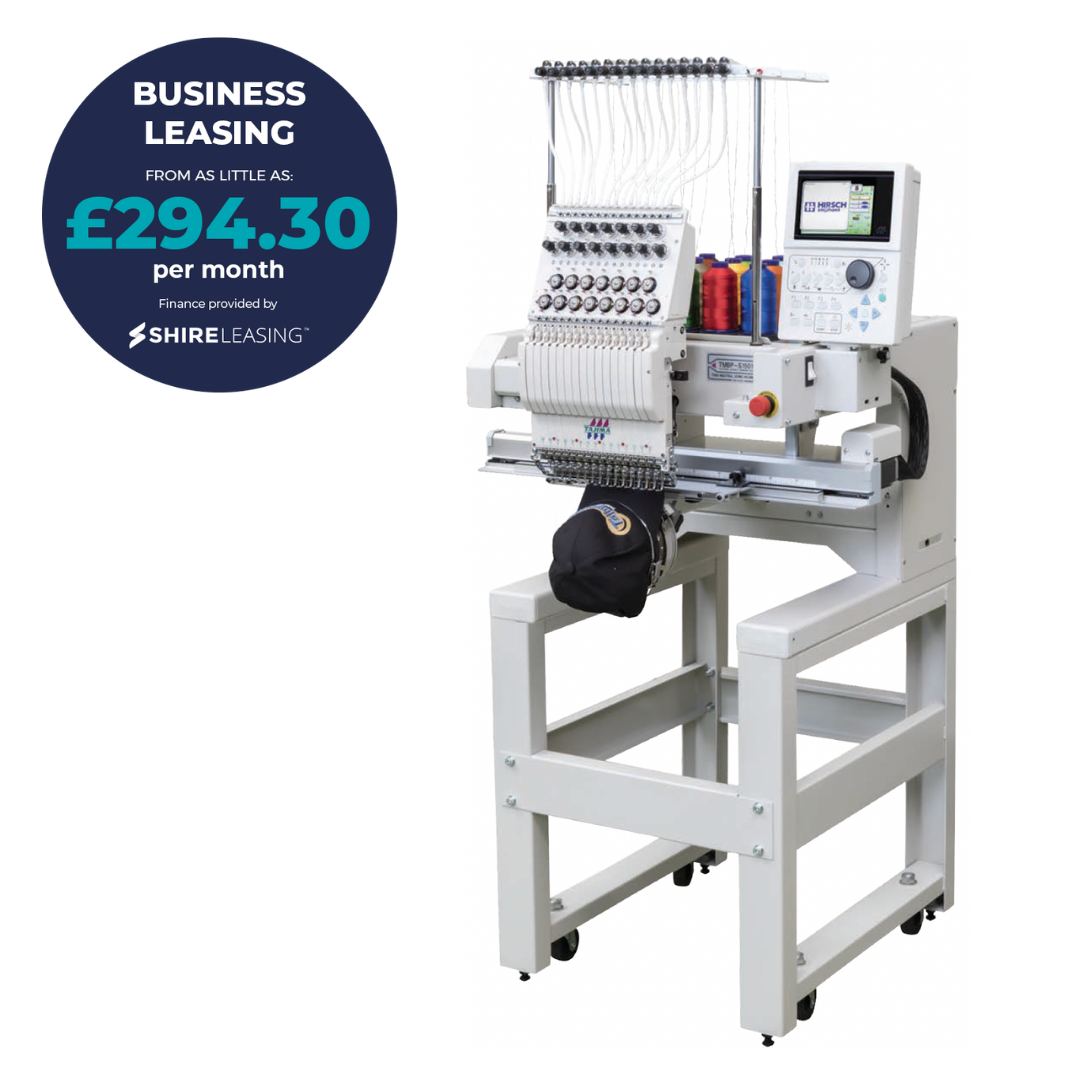 NEEDLES 15 
MAX SPEED 1200 SPM
TUBULAR EMB. FIELD 14" X 19.6" / 360mm x 500mm
CAP EMBROIDERY FIELD 3" x 14.2"/ 75mm x 360mm
MACHINE DIMENSIONS 30" L x 34" W x 66" H
MACHINE WEIGHT 133 kgs
MIN. DOOR CLEARANCE 32" W
All machines come with a choice of frame sizes.
TAKE ON THE MOST CHALLENGING JOBS WITH CONFIDENCE, KNOWING THAT THE TAJIMA TMBP-SC CAN HANDLE IT ALL.
Tajima TMBP-SC1501 Embroidery Machine Features:
New underhanging frame drive
360 x 500mm Sewing area
FS Mode (Easy to sew difficult twisted threads)
Big memory
Easy threading and tensioning system
2 x USB and 1 x LAN Ports
Barcoding ready (Easy networking)
Full colour screen
Laser position marker
Super slim cylinder arm
New type reinforced cap frame system
Thread trappers
New needle plate
A newly designed slim cylinder allows for embroidery on challenging items such as small pockets and socks. The cap driver has its own shaft which allows for high speed cap production with precision results. Additionally, the TMBP-SC has a streamlined Cubical Frame Design which has no sides allowing the TMBP-SC to embroider on over-sized jackets, blankets or large duffel bags as well as polo shirts and caps.
Huge Opportunities in a Compact Space
Versatility and mobility combined with easy-to-use features makes the TMBP-SC series the ideal machine to get your embroidery business up and running, quickly & easily.
Great For Your Shop
The Tajima TMBP-SC Series is the perfect machine when you need to embroider large bulky items but do not have the space for a full size embroidery machine. The lack of sides eliminates size restrictions from left to right making the TMBP the ideal machine for hard to hoop items such as large bags and jackets.  The TMBP is also great with traditional sized items such as left chest and hat designs.
STANDARD FEATURES OF TMB-SERIES TAJIMA SINGLE HEAD MACHINES
2,000,000 Stitch Memory
Auto Colour Change
Auto Thread Break Sensor
Auto Thread Trim
Barcode Ready
Colour LCD Panel
Cubical Frame Design
High Speed Rotary Hook
LAN Enabled
Large Sewing Field
Quick Changeover
Pickerless Trimmer
Stand Included
USB Enabled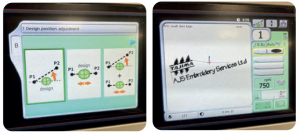 DESIGN POSITION ADJUSTMENT
The Design Position Adjustment feature allows a
design to follow any reference line of your choice
ensuring perfect alignment every time.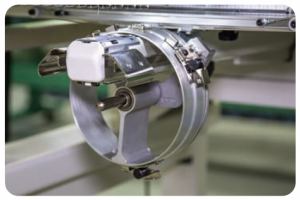 VERSATILE CAP DRIVER
The cap driver incorporates a lower shaft and a third
locking pin to stabilise the cap during embroidery to
enhance quality, and run at higher speeds.
LASER POSITION MARKER
A red dot projected above the needle hole helps identify the actual embroidery area when tracing the design before stitching.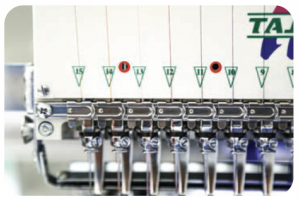 THREAD LOCKING SYSTEM
The Thread Locking System secures the thread after a trim to help prevent the thread pulling out during needle startup.
KEY FEATURES OF TMB-SERIES TAJIMA SINGLE HEAD MACHINES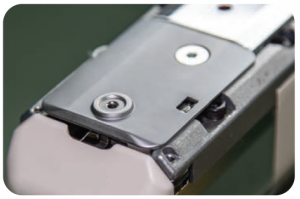 TRIMMED NEEDLE PLATE
A shorter distance between the needle hole and the edge of the trimmed needle plate offers an increased embroidery area on many items.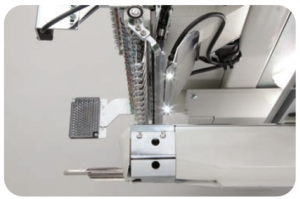 LED NEEDLE BASE LIGHT
The LED Needle Base Light illuminates the needle area and enables the operator a better view of the item being embroidered.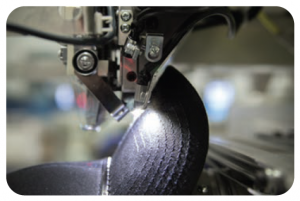 STEEPER TILT HEAD
The Steeper Tilt Head angles the bill of a cap and allows stitching closer to the edge of the bill, increasing the embroidery area.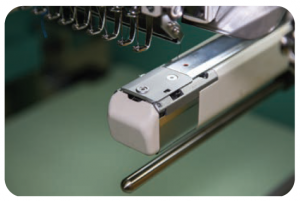 SLIM CYLINDER BED
The Slim Cylinder makes it possible to embroider on smaller objects such as socks, gloves, and pockets. The Slim Cylinder is 12mm narrower than the original size cylinder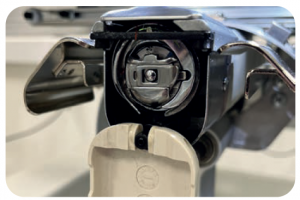 PICKERLESS TRIMMER
Tajima has recently developed the new style 'pickerless' trimming system which along with the Slim cylinder arm, allows you to embroider smaller objects. Caps, socks, gloves and pockets are no longer a struggle.
With the development of the Tajima Slim Cylinder arm, the needle plate has also been redesigned to allow for an increased embroidery area on many items. Easy removal makes maintenance a simple task.
EASILY NETWORK YOUR SOFTWARE AND MACHINES FOR IMPROVED WORKFLOW.
All new machines come complete with a 2 year warranty, installation and operator training tailored to your needs.
Please contact our sales department for further information
on 01159 459 460
or email: sales@ajsemb.uk