The Tajima TFMX-C1501(Bridge) provides a large work area to handle bulky items easily. The stretched frame makes this machine a great candidate for options such as the single head laser, sequin attachment, cording device and more.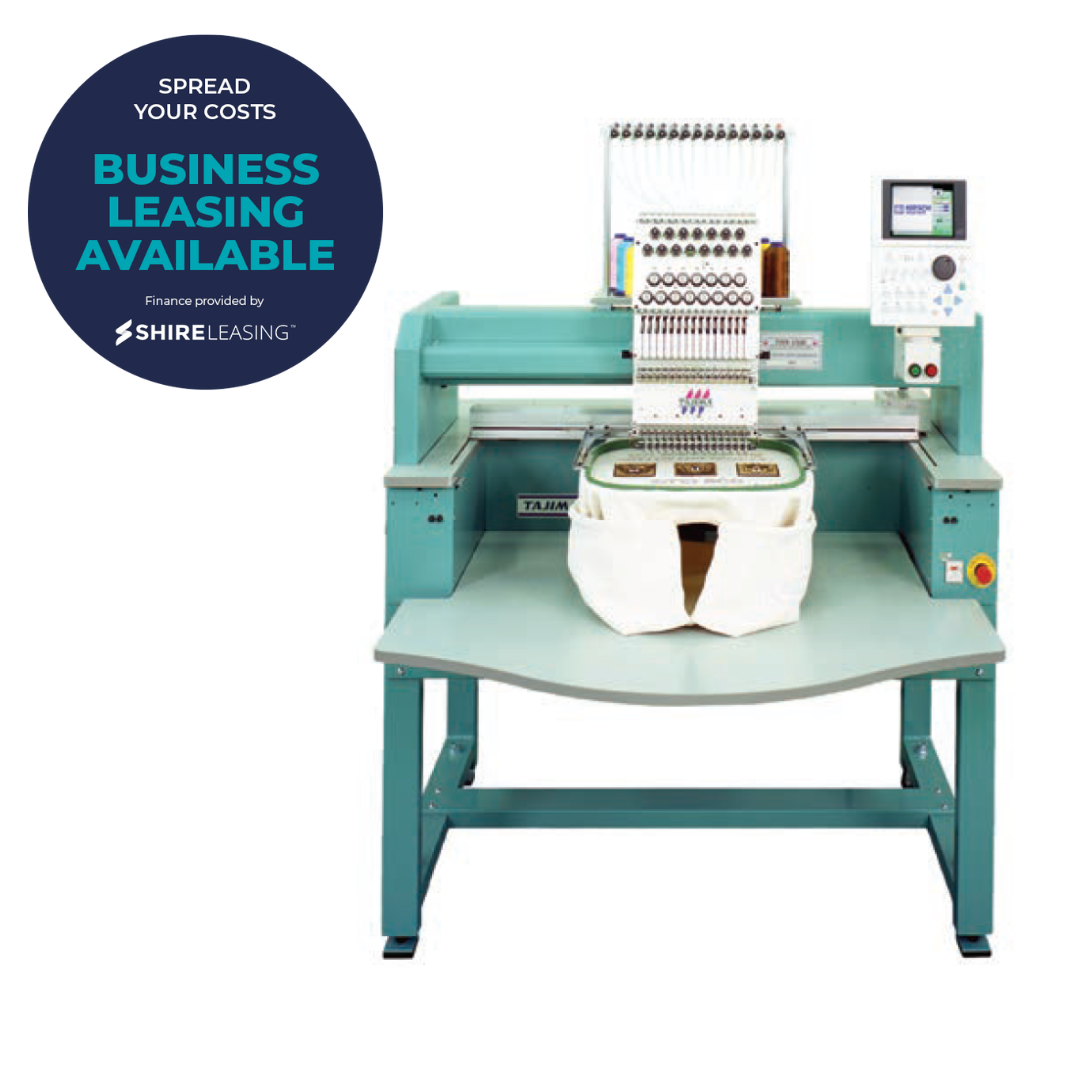 NOISE REDUCTION DEVELOPMENTS HELP CREATE A QUIET AND PLEASANT WORKING ENVIRONMENT FOR OPERATORS.
NEEDLES 15
MAX SPEED 1200 SPM
TUBULAR EMB. FIELD 17.5" X 16.5" / 439mm x 419mm
CAP EMBROIDERY FIELD 3" x 14.2"/ 75mm x 360mm
MACHINE DIMENSIONS 50" L x 47" W x 67" H
MACHINE WEIGHT 226 kgs
MIN. DOOR CLEARANCE 32" W

The Tajima TFMX-C1501 (MX BRIDGE) embroidery machine features include:
Bridge construction
Big sewing field
Big memory
Microsmart technology
Full colour screen
Energy saving sleep mode
Patented features
The Tajima TFMX-C1501 single-head commercial embroidery machine provides a large work area for bulky items. The larger machine footprint makes the machine a great candidate for options such as the Single Head Laser, Sequins, Lochrose, Cording and more. The World's First Single Head Machine That Thinks for Itself.
Tajima's technological superiority has never been more evident than with the TFMX-C1501 (Stretch) single head embroidery machine.  This workhorse has an impressive stance, can handle the most challenging of products and is ready for work 24/7.
Standard features such as a LCD Control Panel, Precision Thread Break Detection and 1200 Stitches Per Minute make the TFMX-C1501 the perfect choice for virtually any application.
The TFMX-C1501 machine takes our reputation as the world most powerful single head embroidery machine to an entirely different level.
Expand Your Palette
15 Needles means more colours to unleash creativity.  It also means a larger base of standard thread colours which significantly reduces time spent changing thread cones at the machine. Spiral thread tubes prevent the strands of thread from getting tangled along the travel path from the cone to the needle.
Cutting Edge Options
The TFMX is host to a huge assortment of options.  The Seit SHL5 Option adds laser cutting directly to the embroidery machine.  Decorate with Applique, Reverse Applique and more by adding the Seit SHL 5 Option.
Latest noise reduction developments help create a quiet and pleasant working environment for operators.
Stitch conditions can be memorised together with embroidery data. The saved stitch conditions are applicable to job repeat. or other machines.
A design can be automatically repeated up to 99 times both vertically and horizontally.
Increase or decrease actual stitch length according to the stitch length in a design.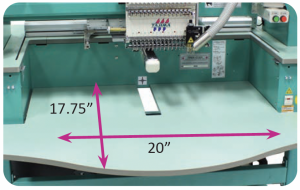 ADJUSTABLE WORK TABLE
Experience superior support for large and bulky items with the movable table which can be removed completely or raised for flat embroidery applications with the optional border frame. 
The bridge type machine structure and stretched sewing filed allows up to 17.75" D x 20" W for flat sewing and 17.5" D x 16.5" W for tubular sewing.
OPTIONAL BORDER FRAME
The border frame table allows for full field flat embroidery to sew designs on pre-assembled cut goods and items such as shower curtains, bedding, pillow covers and more. Clips hold the material securely in place. The border frame measures 450mm deep and 520mm wide.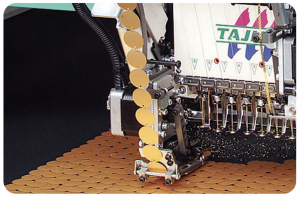 OPTIONAL SEQUIN DEVICE
The Sequin Device IV offers a wide variety of sequin sizes and offers the capability of speeds up to 1,000 SPM. The Sequin Device IV can be factory installed by Tajima or field installed at a later date.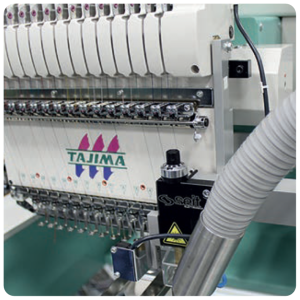 OPTIONAL SINGLE HEAD LASER
The optional single head laser (SHL5) saves valuable time and increases productivity.
Complex and segmented appliqués are easy to cut and almost any material can be considered, including soft and lightweight, opening the door to better designs, enhanced creativity, and a greater bottom line. 
All new machines come complete with a 2 year warranty, installation and operator training tailored to your needs.
Please contact our sales department for further information on 01159 459 460 or email: sales@ajsemb.uk