This incredible embroidery machine has been designed from the ground up to provide large field, single hooping embroidery, with legendary Tajima quality. The TWMX offers an incredible 22.75" x 23.5" sewing field, providing a solution for jobs that a standard machine sewing field can't handle.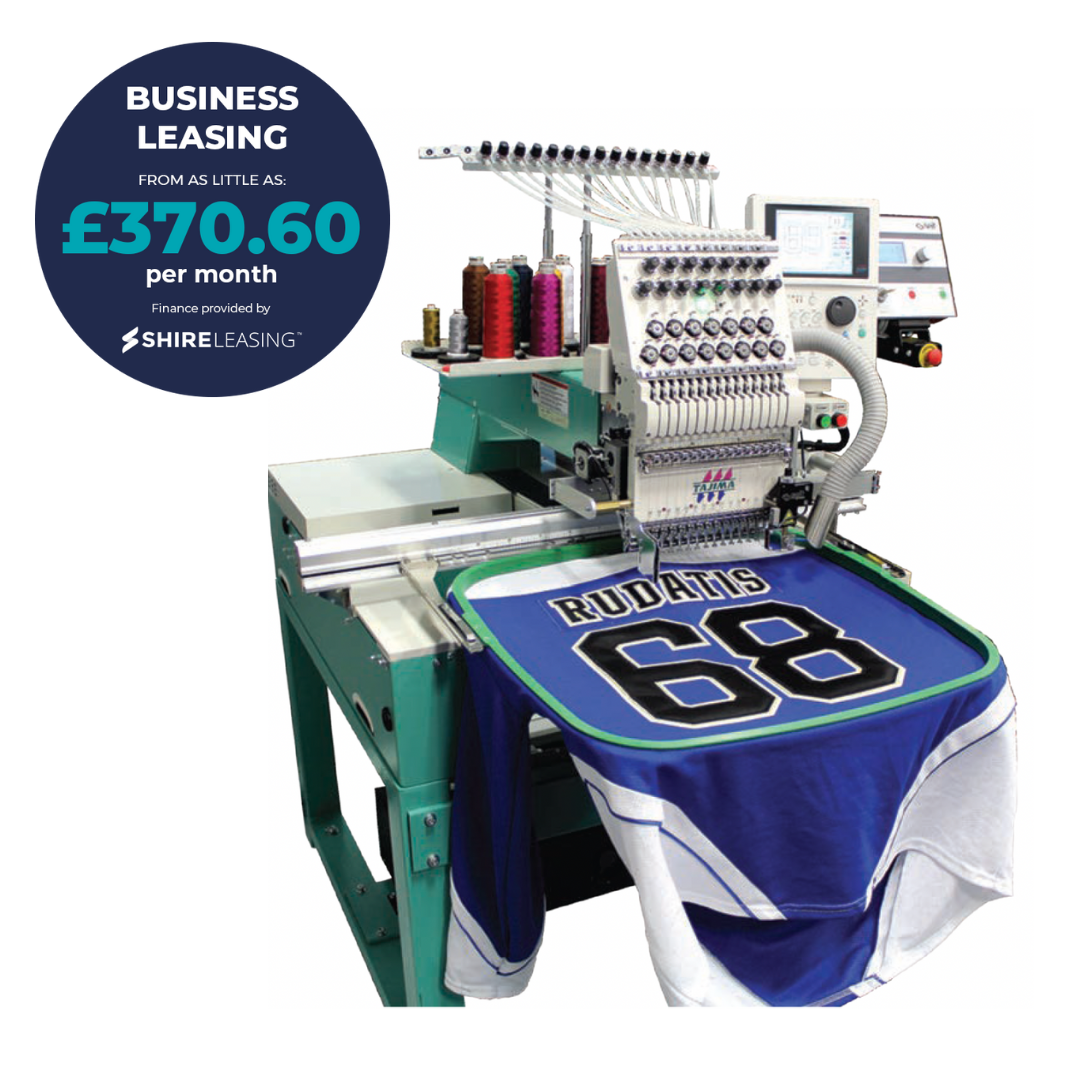 Shown with optional SHL5 laser attachment. EXTRA LARGE SEWING FIELD – AN INCREDIBLE 550mm X 600mm.
BREAKING THE BOUNDARIES OF TRADITIONAL EMBROIDERY MACHINE FIELDS GIVES YOU A COMPETITIVE ADVANTAGE OVER YOUR COMPETITION. 
NEEDLES 15
MAX SPEED 1200 SPM
TUBULAR EMB.FIELD 22.75" X 23.5" / 550mm x 600mm
CAP EMBROIDERY FIELD 3" x 14.2"/ 75mm x 360mm
MACHINE DIMENSIONS 38" L x 39" W x 61" H
MACHINE WEIGHT 38" L x 39" W x 61" H
MIN.DOOR CLEARANCE 40" W
The Tajima TWMX-C1501 (SUMO) Embroidery Machine Features:
Worlds largest tubular frame (550 x 600mm)
Big memory
Microsmart technology
Full colour screen
Energy saving sleep mode
Patented features
The TAJIMA Sumo embroidery machine has all the great features of the TAJIMA EVO embroidery machine. The main difference is the super wide embroidery area which can provide for all your large embroidery needs. This will help when embroidering garments such as oversized jackets, Horse blankets, table cloths, curtains, bed spreads and many more.
This will allow you to take on all those over sized jobs which you have struggled with in the past. Key features include:
32 Bit LCD controller
Rotary tension device
upper thread lock device
Cap frame attachments
Extra large sewing area
This outstanding embroidery machine has been designed from the ground up to provide large field, single hooping embroidery with the legendary Tajima quality known around the world.
Sew With Ease
The full color 6.5″ LCD screen shows the design and location of the needle at any point in the sewing process.  Standard machine memory is 2,000,000 stitches and up to 200 designs can be saved. USB or LAN can be used for seamless data transfer.
Breaking the boundaries of traditional embroidery machine fields gives you a competitive advantage over your competition.
Expand Your Palette
15 Needles means more colours to unleash creativity.  It also means a larger base of standard thread colours which significantly reduces time spent changing thread cones at the machine. Spiral thread tubes prevent the strands of thread from getting tangled along the travel path from the cone to the needle.
Cutting Edge Options
Imagine taking the enormous sewing field of the SUMO and combining it with laser technology. The Seit SHL5 Option adds laser cutting directly to the embroidery machine.  Decorate with applique, reverse applique and more by adding the Seit SHL 5 Option.
EXTRA WIDE POWERHOUSE
The optional Wide X-Axis Extension Table provides the largest sewing field available on any Tajima single head embroidery machine.
The Tajima TWMX can handle all of your large embroidery needs, such as jackets, sports jerseys, tablecloths, curtains, bedspreads and much more.

LARGE BANNERS
With a sewing field of 550mm x 1200mm, the Wide X-Axis Extension Table gives you the ability to create large banners or flags.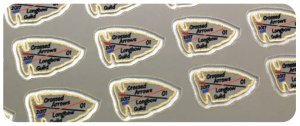 EMBROIDERED BADGES
Patch embroidery offers another unique & creative approach for expanding your product line with the Wide X-Axis Extension Table and single head laser add-ons.

AWNINGS
The possibilities are almost endless with the capabilities of the TWMX. Outdoor awnings are one more example of the versatility of this machine.
All new machines come complete with a 2 year warranty, installation and operator training tailored to your needs.
Please contact our sales department for further information on 01159 459 460 or email: sales@ajsemb.uk